TALES OF MR. RHEE Volume 3 is invading Comixology!
As mentioned last month, thanks in no small part to the fact that the first two TALES OF MR. RHEE Kickstarter campaigns raised a combined total of $40,000 in presales and pledges, we're now able to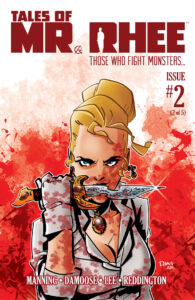 offer TALES OF MR. RHEE Volume 3: "Those Who Fight Monsters…" as a FREE online series between now and March with daily updates of a new page every weekday.
That's called paying it forward, folks. Thanks again for being so awesome and supportive of TALES OF MR. RHEE. All of us involved with the series most sincerely appreciate it.
Admittedly, though, some of you out there feel like we've just been torturing you with the release schedule of a page a day over at www.bitly.com/DigitalFirstRheev3… so here's what we're doing now for those of you who want to read each issue all at once.
While you can still read the series online for free with daily updates every weekday morning at about 10:00 AM EST… if you absolutely can't wait and want to read each issue all at once, on the first Wednesday of every month Devil's Due/1First Comics will be offering that month's whole issue at Comixology for only $1.99 by clicking right HERE.
(Note that you can also get several other comics I've written there, too, including out-of-print titles such as the anthology collections DIA DE LOS MUERTOS, THEN IT WAS DARK, and GRIMM FAIRY TALES #4: HALLOWEEN SPECIAL 2012, as well as books solely written by me, including LOVE STORIES (TO DIE FOR), the first two volumes of TALES OF MR. RHEE, and all three volumes to date of NIGHTMARE WORLD.)
If you haven't read any of TALES OF MR. RHEE yet, Volume 3 really is a perfect jumping-on point for new readers. Issue #1 is an over-sized 24-page issue that's all online for free, and we'll be 4 pages into Issue #2 at the website by the time most of you read this…
Or you can buy the full Issue of #2 (the cover of which features a character (and weapon) several of you may remember from NIGHTMARE WORLD) at Comixology this Wednesday…
Or you can wait to snag the deluxe hardcover edition we'll be offering through Kickstarter in April… if you can bring yourself to wait that long.
We're all about giving you options, folks, and speaking of Kickstarter…
---
The fate of the best creator-owned crossover of the year is in YOUR hands!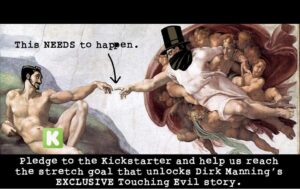 TOUCHING EVIL by Dan Dougherty (who some of you may also know as the creator of the long-running comic-strip series BEARDO or one of the other 2/3rds of my comic book creator karaoke super-group SATELLITE KILT) has been one of my favorite comics of 2015.
The story of TOUCHING EVIL revolves around a lawyer who inherits a curse that causes her to not only instantly kill any evil person she touches… but also confine them to a limbo-like prison in her own mind for all eternity.
It's a compelling supernatural crime thriller, and Dan recently launched a Kickstarter campaign to collect the first seven-issue story-arc into one stunning hardcover collection right HERE.
A few days ago the campaign hit its funding goal, meaning the collection is guaranteed for publication. Yay!
The fun doesn't stop there, though, and as those of familiar with how Kickstarter works may know, this also means he's now into Stretch Goal territory… and right now he's within striking distance of hitting the "Dirk Manning is Evil" stretch goal of $13,000 which will unlock a brand new TOUCHING EVIL story written by me and illustrated by Dan himself!
The reason I specifically bring this up to all of you is because just earlier today I sent Dan the 16-page script for the proposed story… which is officially a TALES OF MR. RHEE/TOUCHING EVIL crossover!
If you want this brand new TALES OF MR. RHEE story to exist — and want to own a copy of it alongside the amazing TOUCHING EVIL hardcover — back the TOUCHING EVIL Kickstarter HERE.
Be forewarned, though, that should Dan hit this stretch goal before the campaign (right now he's sitting at over $10,000 with 9 days left, so it's very likely it's going to happen), the current plan for the TALES OF MR. RHEE/TOUCHING EVIL crossover story is for it to remain a Kickstarter Exclusive reward only for those who back this campaign for the foreseeable future… so, again, if you want to make this story happen — and want to own a copy of it — pledge before the campaign ends!
(And, heck, look at that RHEE-ly great glow-in-the-dark TALES OF MR. RHEE shirt Dan's wearing in the Kickstarter video, too…)
Do you want to play a game?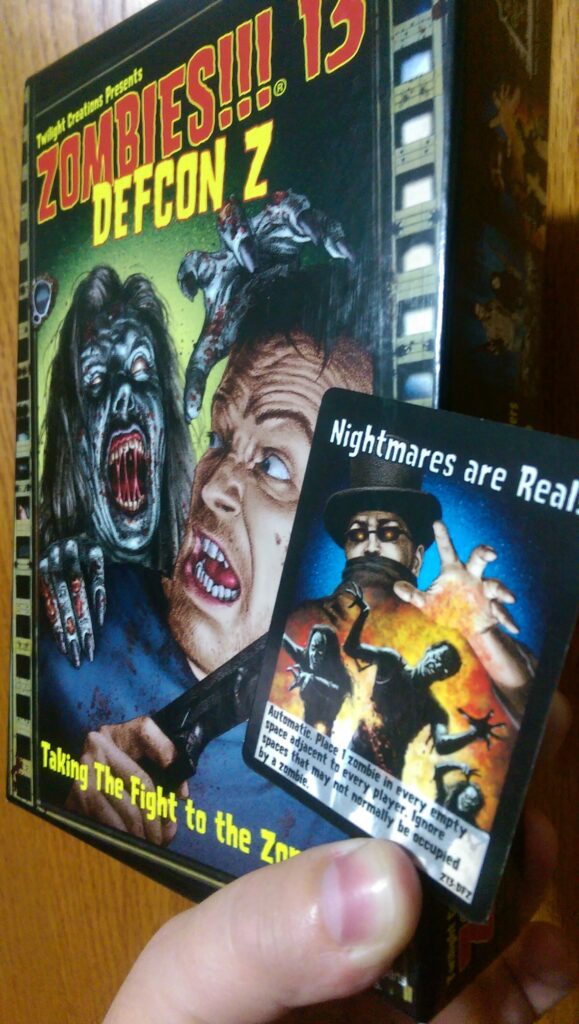 Some of my fondest memories from before I began touring all over the country at comic conventions and in-store signings almost every weekend involved the times I could get together with my friends for "Board Game Nights." During those times there was no game we loved to play more than ZOMBIES!!!, a board game that, with a name like that, I imagine needs no real explanation, right?
Earlier this year the 13th(!) expansion pack, titled ZOMBIES!!! 13: DEFCON Z game was released, and as the picture shows, none other than yours truly is featured on a playable card in the game that I was able to design! Neat!
(Because the "Nightmares Are Real!" card is a real monster of a card that could totally screw everyone else in the game in a true "survival of the fittest" fashion, I also was able to design a second card in the ZOMBIES!!! 13 expansion set called "Bite Me!" that could even the odds a bit… for those that survive Dirk Manning summoning a potentially dozens of zombies in one move, of course.
In order to play ZOMBIES!!! you'll need the base board game, which goes for about $20 through Amazon or your local comic/game shop, and the ZOMBIES!!! 13: DEFCON Z expansion will cost you about another $20 should you want this particular add-on set.
And for those of you who might be wondering, no, I don't get any royalties from the game or the expansion set I'm featured in. Rather, I really do just love the game enough to mention it here and am tickled to have had a chance to write two cards — and be featured as a character on one of them — in the latest expansion.
(I will say, though, that ZOMBIES!!! card artist Dave Aikins has also become a good "convention pal" of mine over the years, which is pretty cool. It's always neat to meet people you're a fan of and then become pals with 'em, right?)
Anyway, if playing a survivalist board game with all kinds of miniature zombie figurines sounds fun to you (as it should!), get ZOMBIES!!! from a local shop (but local!) if you can.
If that's not an option, though, you can order get the base game (which is playable all by itself) on Amazon HERE and the ZOMBIES!!! 13 expansion (featuring the illustrious and devastating Dirk Manning: "Nightmares Are Real!" card, as well as the "Bite Me!" card I also wrote the rules for) on Amazon HERE.
Happy playing… and please don't send me any nasty letters if your friend knocks you out of the game with one of my cards. Just try to get sweet revenge next time instead, OK?
---
WIZARD WORLD and FANTASTICON: It's official.
I've been sitting on these two announcements for a while, and I'm uber-excited to finally announce that, in 2016, I've been invited to be a guest at FIVE WIZARD WORLD conventions (Cleveland, Ohio; Madison, Wisconsin; Philadelphia, Pennsylvania; Columbus, Ohio; and Chicago, Illinois)… and that I've also been invited to be a guest at THREE FANTASTICON conventions in 2016 (Lansing, Michigan; Toledo, Ohio; and Fort Wayne, Indiana).
If my math is right I attended 27 conventions and signing appearances in 2015, and I'm excited to already be scheduled as a guest at so many WIZARD WORLD and FANTASTICON conventions in 2016. Dates for all these shows — as well as many other great conventions I'm already scheduled for in 2016 — are listed at the end of this newsletter… but I can't tell you enough how much I'm looking forward to appearances in so many new cities (and a few familiar ones) due to being invited to be a guest at these shows. Yay!
---
Does this make me a sell-out?
I'm just going to leave this screen capture from
Amazon.com
right here… and say that if you've been waiting to get copies of
NIGHTMARE WORLD
, and your local comic shop doesn't already have it on the shelves, that you should contact me (you can just reply to this e-mail)
IMMEDIATELY
, as the books are (for at least the time being, and maybe longer) now sold out through Amazon. It's good to be selling-out of books, of course… but, again, if you want them, let me know
IMMEDIATELY
and I'll see what I can do for you. Don't wait.