Wherein a new year begins with a special sneak peek at a plethora of graphic novels and stories written by me scheduled for release in 2016 (and how to get 'em), a look back at all the books that sold-out in 2015 (meaning it's going to be a lot harder to get 'em), the layout of a monstrous 2016 touring schedule (as can be expected), and, yes, the NIGHTMARE WORLD announcement you've all been so patiently waiting fo(u)r…
TALES OF MR. RHEE: "Those Who Fight Monsters" Issue #3 is now on Comixology!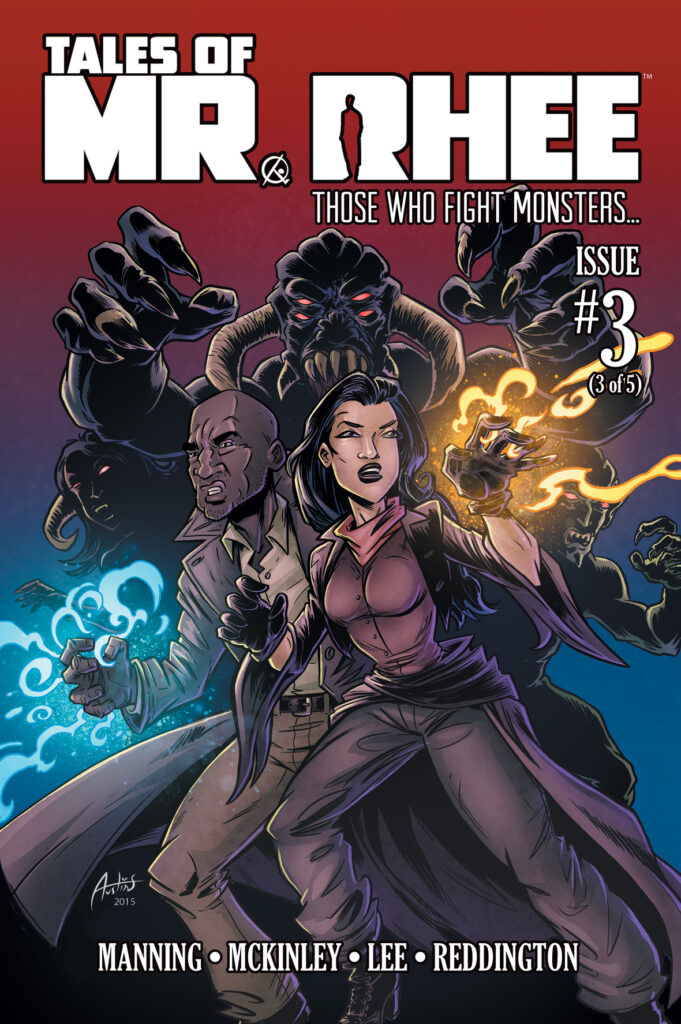 While I've been tickled pink (have fun with THAT mental image) at the response to the first two issues/chapters of TALES OF MR. RHEE Volume 3, I gotta tell ya', Issue #3 is quite possibly my favorite issue of the series to date. Not only does it contain my favorite scene in the whole series thus far (hint: the tea), but after shining a light on Brad the Demon DJ as well as Thelma Lushkin and William from NIGHTMARE WORLD in the last issue, we now get to turn our attention back to Mr. Rhee, learn A LOT more about Charity, and introduce her demon-hunting partner Gannon.
You can immediately read the whole issue from Devil's Due/1First Comics through Comixology for only $1.99, or you can read the issue for free at the rate of a page a weekday through the Devil's Due website HERE.
This of course will all be leading to the Kickstarter campaign in which we'll be offering a limited edition HC collection of TALES OF MR. RHEE Volume 3: "Those Who Fight Monsters…" in April, followed by a mass TPB release later in the year if want a fancy (or, for some reason, not so fancy) print edition of this story.
Oh, and speaking of new books…
***
---
NIGHTMARE WORLD is returning in 2016!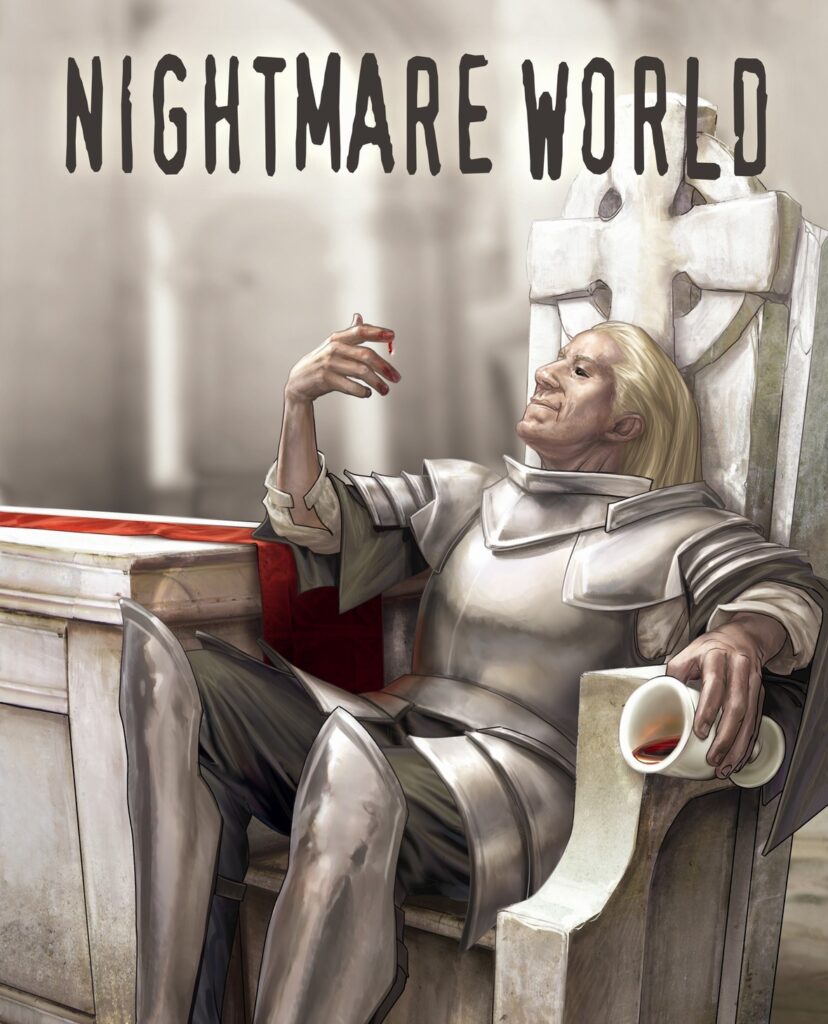 I've been hinting around at this for a while now to people who've been asking at conventions, so let me start 2016 by making this announcement official and public:
NIGHTMARE WORLD Volume 4 will be released in October 2016.
While a lot of you out there have come to love TALES OF MR. RHEE or perhaps first discovered by comic work through WRITE OR WRONG: A WRITER'S GUIDE TO CREATING COMICS, I realize NIGHTMARE WORLD is the book that made a lot of you fans, to begin with, and not a convention appearance passes during which multiple people ask for one more volume of NIGHTMARE WORLD, making it all the sweeter that I can finally announce that the finale of the series will see print this year.
More details will become available as the year goes on, so if you're interested in learning the details I encourage you to watch this space every month or — for real-time updates — join The F(r)iends of Dirk Manning Support Group, as there's bound to be sneak peeks and such posted in there on a semi-regular basis now that the news is official.
---
In memorandum… (Or: If you didn't get these books in 2015, good luck getting them now.)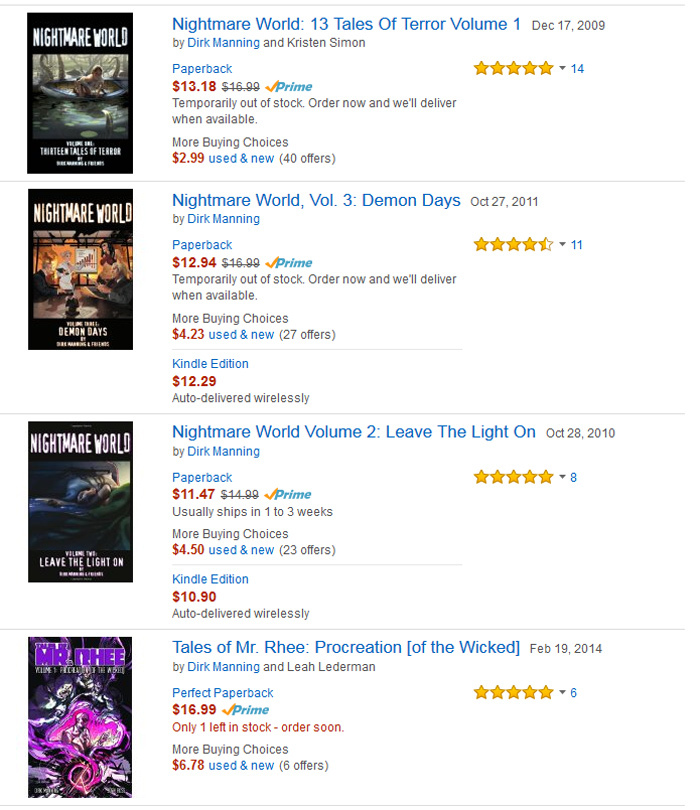 2015 was a helluva year for me, with well over two dozen convention/store signing appearances and the release of several graphic novels completely written by me… along with a few anthology appearances, too since I'm such a fan of short stories.
Due to your enthusiastic support, it's with a bit of bittersweetness that I announce the following books are now officially sold out and out of print in the direct market:
DIA DE LOS MUERTOS (Image Comics)
THEN IS WAS DARK (Peppermint Monster Press)
THE LEGEND OF OZ: THE WICKED WEST Volume 4 (Big Dog Ink)
LOVE STORIES (TO DIE FOR) (Image Comics)
NIGHTMARE WORLD Volume 1 (Image Comics)
NIGHTMARE WORLD Volume 3 (Image Comics)
(And for those of you keeping track at home, there are only about 150 copies of NIGHTMARE WORLD Volume 2 left in circulation as of this writing.)
Some of the sell-outs were expected, but, honestly, the NIGHTMARE WORLD ones all caught me off guard, especially with it being my plan to release NIGHTMARE WORLD Volume 4 this coming October… and before I learned of the first three volumes all being sold-out, of course.
Could this mean that NIGHTMARE WORLD Volume 4 could instead become a giant, leather-bound, NIGHTMARE WORLD Omnibus collecting all four volumes into one giant tome of terror? Hmmm. Stay tuned, folks. Stay tuned…
Point being, if you missed your chance to get any of those books, the secondary market is now the way to go… although I may be making plans to at least have a short run of the NIGHTMARE WORLD V1-V3 available as a convention exclusive TPBs while we wait to see what October brings…)
---
Books and stories to look forward to in 2016…
That being said, I'm pleased to announce that I currently have several books and/or short stories scheduled for release in 2016 alongside the aforementioned NIGHTMARE WORLD Volume 4/Omnibus. Here's a peek at some (but not all) of what comic and graphic novel releases you can expect from yours truly (and friends) in 2016:
Graphic Novels/Mini-Series:
TALES OF MR. RHEE Volume 3: "Those Who Fight Monsters…" (Devil's Due/First Comics)
EL MARIACHI (El Arto Studios)
LOVE STORIES ABOUT DEATH Volume 1 (TBD)
NIGHTMARE WORLD Volume 4/NIGHTMARE WORLD Omnibus (TBD)
Short Stories (so far):
"Joe's Doughnut" (TOUCHING EVIL Kickstarter Exclusive comic story)
"Big Spoon" (Upcoming supernatural comedy story for a TBA anthology from Rocket Ink Studios)
"Metal Jam" (Short prose story/essay in an upcoming authorized Pearl Jam(!) anthology)
"When Good Dogs Do Bad Things" (Short story in the upcoming TARA NORMAL graphic novel by Howie Noel)
There are a few more things in the pipeline, including a new monster-based series, a prose story for a popular zombie comic franchise, and of course, the shadow of WRITE OR WRONG Volume 2 looms large (and continues to beckon to me)… so, yeah, that's some good stuff to look forward to in 2016, right?