If you're a Dirk Manning completist this is the stuff you'll want to get (or at least know about)! Like many comic creators, in my earliest years I did a few self-published/promo books to give away or sell at conventions, but I've not included those here and am only including books that have been published with the intent of distribution in print or online. That being said, if you have one of those rare promo books from the early days, well, you're truly an old-school and/or very loyal reader/friend. Thank you!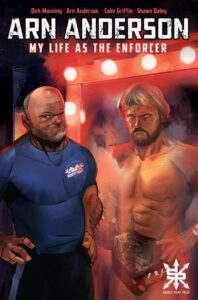 ARN ANDERSON: MY LIFE AS THE ENFORCER (Source Point Press)
Your favorite professional wrestler's favorite professional wrestler is most likely Arn Anderson and this graphic novel biography illustrates why, detailing how this
legendary performer went from being raised by his grandparents in rural Georgia to founding "The Four Horsemen" and beyond! You'll laugh, you'll cry, and you'll feel the impact of the first ever spinebuster as you're taken through a journey that forever changed the worlds of wrestling and pop culture alike!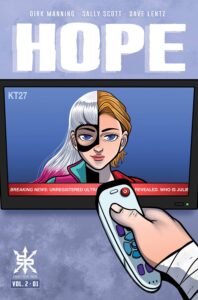 HOPE Volume 2: "Masks" #1-4 (Source Point Press)
This second volume picks-up immediately where Volume 1 ends, casting a light on the origin and machinations of The Final Boss and his gang of Ultras who have been given orders that are going to make Hope's life even more difficult moving forward. Also, Anna gets a reunion she's been waiting for... and if you've read the story so far, your concern is not unwarranted!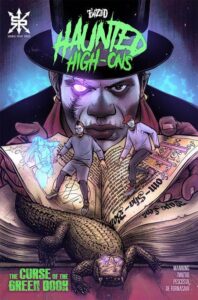 TWIZTID HAUNTED HIGH-ONS Volume 2: "The Curse of the Green Book" (Source Point Press)
Supernatural shenanigans continue in this second volume of the four-time Ringo Award nominated series! Lured to New Orleans under false pretenses, Jamie, Paul, and Felicia find themselves drawn into a battle between the King and Queen of Voodoo for possession of an arcane tome that can destroy the world as we know it! See why Comical Opinions hailed this second story-arc as "A technically flawless comic with a lovably fun cast of goofballs you feel like you could be friends with in 30 seconds or less!" This collected edition also includes a new bonus prologue and several other extras not included in the single issues!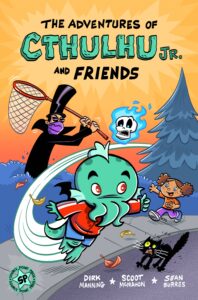 THE ADVENTURES OF CTHULHU JR. AND FRIENDS (Source Point Press)
When a wannabe supervillain is charged with capturing the son of Cthulhu (who just happened to move in across the street for the summer) in order to be admitted into the League of E.V.I.L., hilarity, hijinks, and horror ensues! Both adults and kids alike will find a lot to enjoy in this original graphic novel hailed as "A great comic for all ages!" by Sci-Fi and Scary! This is the full story (more than 120 pages!) first presented s the first chapter only for the Halloween Comic Fest issue a few years prior.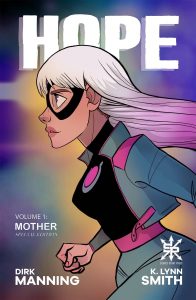 HOPE Volume 1: "Mother" [Special Edition] (Source Point Press)
Reprinting the now sold-out initial TPB edition of the book, HOPE Volume 1: "Mother" [Special Edition] also contains multiple pages of rarely or never-before-seen extras, including scenes deleted from the original self-published first issue, a new prose story written my me with spot illustrations by Sally Scott, and more!  The Kickstarter Exclusive Hardcover with the wrap-around cover will forever remain the "Collector's Edition" of the book, and this new "Special Edition" version of the book will be only edition made publicly available moving forward.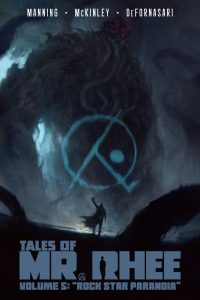 TALES OF MR. RHEE Volume 5: "Rock Star Paranoia" (Source Point Press)
TALES OF MR. RHEE Volume 5: "Rock Star Paranoia" opens with Mr. Rhee finding the world forever changed by the massive battle he took part in at the end of Volume 4 that closed out "Act One" of the series. Now, as "Act Two" begins, before Mr. Rhee has time to find his place in this New World Order he's quickly thrust into time-sensitive turmoil: He must stop the upstart rock band "No More Hope" from re-awakening Cthulhu and unleashing The Great Old One upon Creation once more. Realizing he can't do it alone, Mr. Rhee reluctantly joins forces with both the demon-hunting Charity and the demons-in-disguise duo of Brad Thomson and Calista all in hopes that they can co-exist long enough to save existence!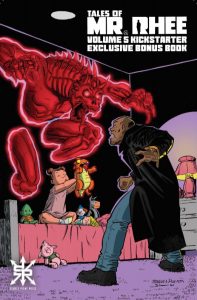 TALES OF MR. RHEE Volume 5 Bonus Book (Source Point Press)
This Kickstarter Exclusive Bonus Comic that was unlocked as part of the Stretch Goals for the TALES OF MR. RHEE OMNIBUS/Volume 5 campaign features a fantastic cover by Miguel Puerta and Salvador Raga and two new TALES OF MR. RHEE short stories: "It's a Long Way to the Top" features a story by me and Austin McKinley that sheds a light on the inner-workings of No More Hope and what has set them on their collision course with Mr. Rhee. Then "Friends in Low Places" is illustrated by Senk Chhour and sheds light on origin of the singer of No More Hope... while also affirming an even bigger threat for Mr. Rhee emerging from the shadows of his past. This book is a Kickstarter Exclusive comics and is extremely rare!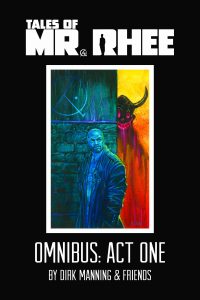 TALES OF MR. RHEE OMNIBUS: ACT ONE (Source Point Press)
This massive tome of terror collects the first four volumes of Tales of Mr. Rhee with a brand new fully painted cover by the legendary James O'Barr, creator of The Crow. Along with Volume One being completely remastered in matching full color (like Volumes 2, 3, and 4) for the first time, this edition includes a brand new introductory essay/foreword titled "Revealing the Tales of Mystery Behind Tales of Mr. Rhee" outlining the origins and history of the creation of the series!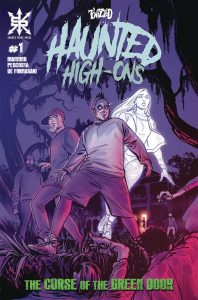 TWIZTID HAUNTED HIGH-ONS Volume 2: "The Curse of the Green Book" #1-4 (Source Point Press)
Picking-up shortly after where Volume 1 leaves off, our protagonists Jamie, Paul, and Felicia decide to decompress with a trip to New Orleans... only to find themselves drawn into a war between the Queen and King of Voodoo for possession of an ancient and arcane tome only known as "The Green Book." Each of the four single issues was released with an "A" and "B" cover in comic shops, and there are several store-exclusive variant covers for the first issue as well. This series was then nominated for "Best Humor Comic" in the prestigious 2022 Ringo Awards!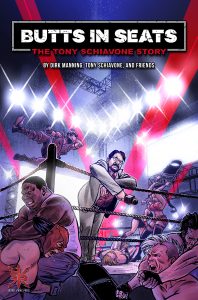 BUTTS IN SEATS: THE TONY SCHIAVONE STORY (Source Point Press)
From teenage wrestling fan to becoming "The Voice of Your Childhood," famed professional wrestling commentator Tony Schiavone has spent five decades working in the pro wrestling industry... and in this graphic novel he shares the story of his career with the world! Not only is this book the highest funded wrestling graphic novel in history, but it's also the first original graphic novel to be advertised on cable television due to the numerous television spots it received for months on All Elite Wrestling programing, and also became a #1 Best-Selling Graphic Novel on Amazon to boot! Whether you're a fan of professional wrestling or not, this is a book worth reading just to experience Tony's incredible story as told through the talents of over two dozen artists, Tony Schiavone... and, well, me.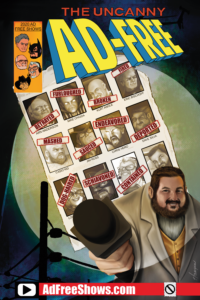 THE UNCANNY AD-FREE (AdFreeShows.com)
This comic was advertised and offered as an exclusive free comic to annual subscribers (at any tier) to the www.AdFreeShows.com Podcast Network at the end of 2020. Written by me with AdFreeShow personalities Mike "Gimmick Attorney" Dockins and Dave Silva and illustrated by Ani Hanneyan, the format of this special promotional (and parody) comic was inspired by comics such as The Official Handbook of the Marvel Universe or Who's Who: The Definitive Directory of the DC Universe, poking playful fun at AdFreeShow's amazing array of professional wrestling podcasting personalities including Conrad Thompson, Kurt Angle, Arn Anderson, Tony Schiavone, Bruce Prichard, Eric Bischoff and more. Due to its very limited print-run this book may most likely prove one of the rarest comics I've written in terms of availability.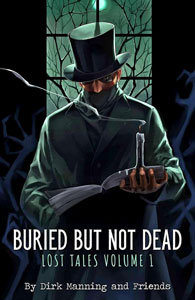 BURIED BUT NOT DEAD: Lost Tales Volume 1 (Source Point Press)
Originally released as a "surprise book drop" on Kickstarter (that raised over $14,000 in pre-sales in a 15-day "Quickstarter" crowdfunding campaign), BURIED BUT NOT DEAD collects nine previously out-of-print stories from various anthologies: "Te Vas Mio Angel" illustrated by Riley Rossmo, "I Ain't Superstitious" illustrated by Jan Apple (who also illustrated the book's cover), "Just Like You Imagined" illustrated by Mark Winters, "Think Twice" illustrated by Alejandro Aragon, "The Bridge Where Carrie's Eyes Changed Color" illustrated by Sally Scott, "Help Me I Am In Hell" illustrated by Marianna Pescosta and Alessandro de Fornasari, and a trio of never-before published NIGHTMARE WORLD stories illustrated by Austin McKinley, David Miller, and Caroline Curtis, respectively. The trade paperback collection then went on to be nominated as "Best Original Graphic Novel" in the prestigious 2021  Ringo Awards.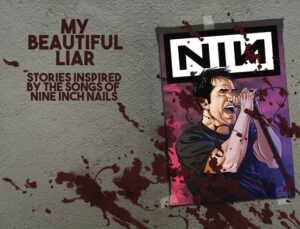 MY BEAUTIFUL LIAR: Stories Inspired by the Songs of Nine Inch Nails (Spazdog Press)
After providing SpazDog Press founder Shawn Demumbrum a story for his first Nine Inch Nails inspired anthology (which can be seen going for $1,000 or more a pop on the secondary market), I was looking forward to doing an original story for a second collection, resulting in me writing "Help Me I am In Hell" to be illustrated by the artistic duo of Marianna Pescosta and Alessandro de Fornasari.  This book had three different covers available, but this one, which serves as the cover to our story, was Kickstarter Exclusive with foil embellishments for the blood splatters. This story was later reprinted in BURIED BUT NOT DEAD Volume 1: "Lost Tales" from Source Point Press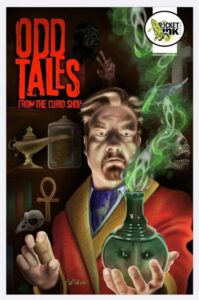 ODD TALES FROM THE CURIO SHOP (Rocket Ink Studios)
In this anthology-style original graphic novel the reader takes the role of a customer in an oddities shop run by an eccentric shopkeeper based on Brian O'Halloran of CLERKS fame who tells you six different stories, each about a different seemingly common object with a mysterious past. I had the honor of writing the last story in the book, titled "Big Spoon" illustrated by Tony Miello and starring Brian's character... and a very big spoon. It's a fun yet spooky romp, dovetailed by the epilogue to the collection, which I also wrote (and was again illustrated by Tony).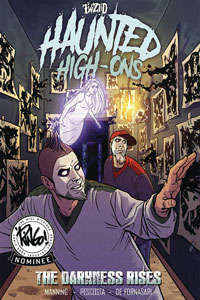 TWIZTID HAUNTED HIGH-ONS Volume 1: "The Darkness Rises" (Source Point Press)
Picking-up right where the original HAUNTED HIGH-ONS one-shot left-off, Madrox and Monoxide (aka: the hip-hop band Twiztid) and their new ghostly companion and friend Felicia find themselves the focus of attention of the mysterious Dr. Fallenlegna, a man who has answers about "The Darkness" that threatens all mankind. Initially published as a five-issue monthly mini-series, a Kickstarter Exclusive Hardcover Edition of this book grossed just shy of $36,000 in sales during the 30-day pre-sale campaign alone. The trade paperback collection then went on to be nominated for three prestigious Ringo Awards in 2020: "Best Humor Comic," "Best Illustrator" and "Best Colorist."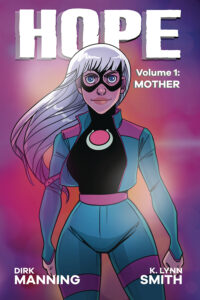 HOPE Volume 1: "Mother" (Source Point Press)
HOPE (written by me and illustrated by co-creator K. Lynn Smith) focuses on the story of Julie Lavelle, a woman who secretly performs good deeds and public services as the costumed Ultra known as Hope. When her secret identity is unexpectedly revealed during a car accident, Children's Services taking custody of her daughter while her husband remains in a coma. Things then get even worse from there. Originally offered in a Kickstarter Exclusive Hardcover edition, the series was then released as a six-issue monthly series from Source Point Press starting with Issue #1 being Source Point Press's inaugural foray into the nationwide Free Comic Book Day event in 2019.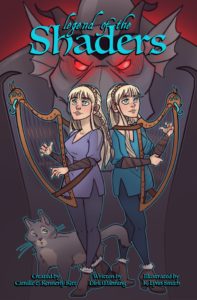 LEGEND OF THE SHADERS One-Shot (Self-Published by The Harp Twins)
Co-written by Youtube sensation Camille and Kennerly Kitt (aka: "The Harp Twins") and illustrated by K. Lynn Smith, this debut(?) one-shot comic had a massive launch on Kickstarter (with a limited edition Kickstarter Exclusive cover). This fantasy comic follows two twins who discover a shocking secret about themselves, their heritage… and even their cat!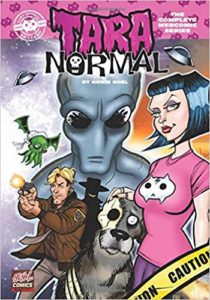 TARA NORMAL: The Complete Webcomic Series (HCNoel Comics)
As the title suggests, this collection assembles the full TARA NORMAL webcomic into one beautiful collection, including the several-page dream-sequence I wrote in which Tara has a terrifying visit with her mother. This volume also contains the foreword I wrote for an earlier collection!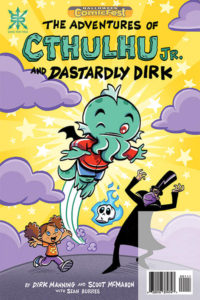 THE ADVENTURES OF CTHULHU JR. AND DASTARDLY DIRK #1 (Source Point Press)
A genuinely all-ages book by me and co-creator Scoot McMahon (with colors by Sean Burres), this first issue tells the story of a wannabe supervillain who must capture the son of Cthulhu to be admitted into the League of E.V.I.L. Yes, it's as cute and funny as it sounds. Issue #1 was the Source Point Press release for Halloween ComicFest 2019.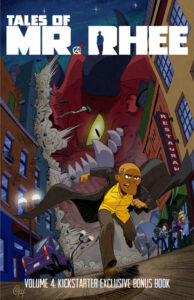 TALES OF MR. RHEE Volume 4: Kickstarter Exclusive Bonus Book (Devil's Due)
This Kickstarter Exclusive Bonus Comic that was unlocked as part of the Stretch Goals for the TALES OF MR. RHEE Volume 4 campaign features a fantastic cover by Erich Owen and two new TALES OF MR. RHEE short stories: "Mother" is illustrated by Marianna Pescosta and Alessandro de Fornasari (of TWIZTID HAUNTED HIGH-ONS fame) and may be one of the most touching stories featuring Mr. Rhee ever written, detailing Mr. Rhee making a visit to his mother's grave for a quiet and private conversation about how he sees his future. The second story in this book, "The Trouble With Destiny" is a crossover story with The Jovian (from the pages of NIGHTMARE WORLD and TALES OF MR. RHEE) and The Samaritan from THE TROUBLE WITH LOVE written by me with Victor Dandridge, in which our two heroic characters meet for a special crossover in the void and compare notes about their respective pasts -- and futures. This story is illustrated by Mike Watson and Veronica Smith with letters by Danny Cooper. This book also contains several more TALES OR MR. RHEE pin-ups and, like the other Kickstarter Exclusive comics, is extremely rare!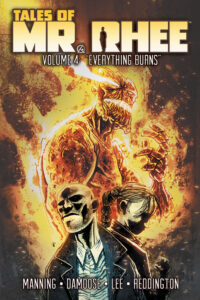 TALES OF MR. RHEE Volume 4: "Everything Burns" (Devil's Due)
Upon discovering that Mr. Rhee has escaped his imprisonment, the arch-demon decides the time for subterfuge is over and begins a fiery full frontal assault of Mr. Rhee. Realizing he has little hope of defeating his longtime nemesis alone, Mr. Rhee reluctantly agrees to get help from The P.R.O.M.I.S.E. Group while Brad Thomson also decides to intervene to save his friend... despite cutting a side deal with the evil Dumanshine Enterprises that could lead to booth their doom. Everything and everyone in the series thus far comes to an explosive and extremely action-packed climax in this final volume of "Act One" of TALES OF MR. RHEE... and everything burns.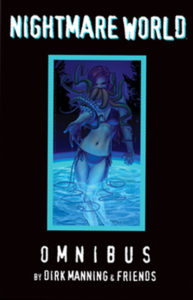 THE NIGHTMARE WORLD OMNIBUS (Devil's Due)
All hail Kickstarter and a legion of passionate and dedicated fans for allowing me to collect all four volumes of NIGHTMARE WORLD in a remastered, reshuffled, and truly definitive oversized hardcover. Kickstarter backers got a one-time printing of this same book that was leatherbound with gold-gilded pages, a ribbon bookmark, and a slipcase with the alternate title THE NIGHTMARE WORLD BIBLE. The contents of the book were the same, although the upgraded BIBLE edition also came with…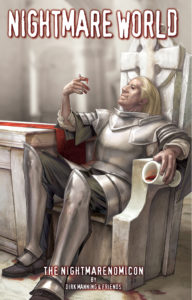 THE NIGHTMARENOMICON
This 52-page square-bound bonus book may have been my favorite Stretch Goal we unlocked in the NIGHTMARE WORLD OMNIBUS Kickstarter campaign. It features "writer's notes" on every story in the series, a full appendix of every NIGHTMARE WORLD story ever published in the original online incarnation of the series (including full artist credits), numerous previously unpublished pin-ups, behind the scenes extras, and more. This book was my "victory lap" for the whole series, and, wow, did it feel good to finally spill the beans on so many hidden secrets in the series.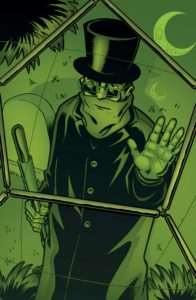 NIGHTMARE WORLD: "Digital Nightmares For You"
Along with THE NIGHTMARENOMICON (and the Kickstarter Exclusive upgrade to THE NIGHTMARE WORLD BIBLE), the NIGHTMARE WORLD OMNIBUS campaign also unlocked a series of digital download extras for backers all on one handy-dandy download card. These treats included audiobook readings of the four NIGHTMARE WORLD prose stories (one per volume) narrated respectively by me, Kasey Pierce, Chris Daher, and Jason Clark — and all given their own unique score by musician Steve Green, as well as the "NIghtmare World Remix" of the song "H.P. Lovecraft" by Cockfight Club from their 2010 "Uber Guber Special Edition" CD/DVD release. (This version of the song contains an intro/outro radio-play that takes place during the events of NIGHTMARE WORLD written and voice-acted by me.) Along with all of that, the digital download card contains a high-definition download of the NIGHTMARE WORLD short film "Life in a Glass House" directed and produced by Austin McKinley (who also illustrated the original story) and a much longer "Creator Commentary Cut" version of the film that, like the audio stories, were exclusive to the Kickstarter Campaign.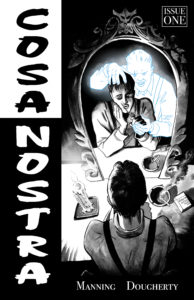 COSA NOSTRA #1 (Self-Published)
A mafia ghost story was written by me and illustrated by Dan Doughterty. Sadly, only the first issue was self-published, along with a strictly black and white (no spot colors) limited edition "Ghost Variant" which was released at Cherry Capital Comic Con in 2018. I have little doubt the full story here will be told at some point, as this is a story I anxiously wish to finish.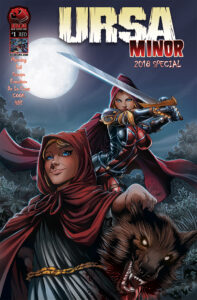 URSA MINOR 2018 SPECIAL (Big Dog Ink)
Originally intended to be published as the URSA MINOR ANNUAL circa 2014, complications at the company caused this book (among several others) to have its release delayed for several years, with it eventually being published via Kickstarter (with multiple variant covers) in 2018. This book contains three stories, all written by me: Renato Rei illustrated a twisted take on the truth about Little Red Riding Hood (and the organization she inspired), Maria Laura Sanapo illustrated a story of a jealous vampire bride, and Mannix Francisco illustrated a closing take about the heroic werebear lead character of the series seeking revenge against the vampires who killed her best friend. These were all fun stories to write and they were all, of course, beautifully illustrated.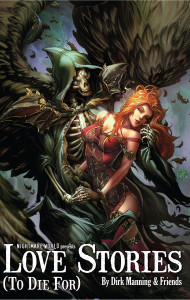 LOVE STORIES (TO DIE FOR) (Devil's Due)
Back in 2013, I released two stories from the then online-exclusive LOVE STORIES ABOUT DEATH online series as a double-sized one-shot flipbook through Image Comics/Shadowline, but the first week of 2017 saw the release of these two stories as well as the three that had never seen print in one gorgeous TPB collection, complete with a multi-page (and heartbreaking) prose story as well. Owen Gieni, Howie Noel, Rich Bonk & Sean Burres, Seth Damoose and Anthony D. Lee, and Anthony Peruzzo all did phenomenal work on their respective stories, and the book's cover by Nei Ruffino speaks for itself. The genre-hopping and complete self-contained nature of the five full-length stories in this collection make it the perfect introduction to my work, and the perfect book to read (and/or re-read) on a rainy day or a Saturday evening alone…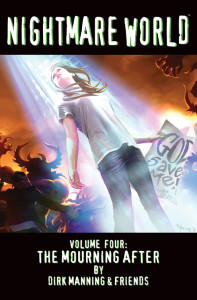 NIGHTMARE WORLD Volume 4: "The Mourning After" (Devil's Due)
Real talk, friends: This one felt pretty darn good. Five years after the last TPB collection first saw print and fifteen years after the series debuted as a self-published online series, at long last the NIGHTMARE WORLD series concluded in one final collection of 13 stand-alone yet interlocking stories that proved well-worth the worth the wait, if I do say so myself. Shakespeare, Kaiju, aliens, Cthulhu, and more haunt the pages of this final collection that wrapped-up NIGHTMARE WORLD while officially and definitively, paving the way for TALES OF MR. RHEE…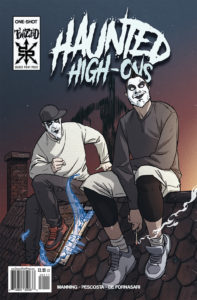 HAUNTED HIGH-ONS One Shot (Source Point Press)
Jamie "Madrox" Spaniolo and Paul "Monoxide" Methric (aka: the hip-hop band Twiztid) have a side-business as a pair of fake ghost hunters, only to take a job that leads them to realize that not only are ghosts real… but also supernatural forces more dangerous than that!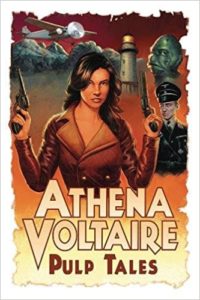 ATHENA VOLTAIRE: PULP TALES (Action Lab)
I was tickled to be invited to contribute a story to the ATHENA VOLTAIRE: PULP TALES prose anthology alongside such amazing comic book writers such as Tom King among others. My story, titled "Weltscmerz (or Athena Voltaire and The God of Flesh and Bone)", is (perhaps surprisingly) not a Lovecraft pastiche, but rather a bit of a dark superhero one. So, yeah, leave it to me to tell a superhero story in a non-comic medium, eh? Ha! ATHENA VOLTAIRE creator Steve Bryant contributed an accompanying pin-up to this story, as he did with every story in this collection.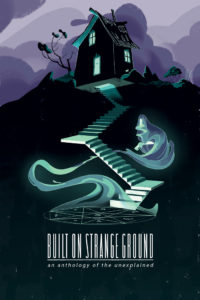 BUILT ON STRANGE GROUND (Peppermint Monster Press)
A spiritual sequel (pun TOTALLY intended) to 2015's THEN IT WAS DARK anthology, this anthology of "real experiences at haunted or supernatural places" contains a ten-page story written by me and illustrated by Sally Scott titled "The Bridge Where Carrie's Eyes Changed Color." What I never reference in this story is that "Carrie" (not her real name) here is the same woman I went to New Orleans within "I Ain't Superstitious" from the first anthology. If you're reading this, though, now you know a little secret, eh? This story was later reprinted in BURIED BUT NOT DEAD Volume 1: "Lost Tales" from Source Point Press.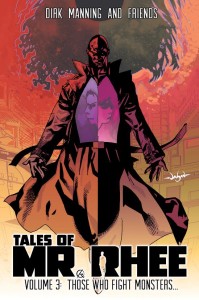 TALES OF MR. RHEE Volume 3: "Those Who Fight Monsters…" (Devil's Due)
Recently freed from his wrongful imprisonment by his arch-nemesis, Mr. Rhee must now decide who to trust in the New World Order. Should it be Brad Thomson, his demonic best friend who harbors a few dark secrets (and impulses) of his own, or Charity, the strong-willed member of The P.R.O.M.I.S.E. Group responsible for his rescue and salvation? Choices are made that have life-altering consequences for all involved in this third installment of the Cthulhu-noir series which now more than ever connects back to the events of NIGHTMARE WORLD in both format and story.
TOUCHING RHEEVIL: "Joe's Doughnut" (Kickstarter Exclusive)
Those who backed the TALES OF MR. RHEE Volume 3 Kickstarter campaign received, among their many Stretch Goals, this *Kickstarter Exclusive* comic which features a TALES OF MR. RHEE/TOUCHING EVIL crossover story written by me and illustrated by TOUCHING EVIL creator/writer/illustrator Dan Dougherty. (As part of the cross-promotion, this comic was also offered with an alternate cover — the one that's the back cover to this edition — as part of the TOUCHING EVIL Volume 1 Kickstarter campaign, as fair is fair, after all.) As this story will likely never be reprinted, those of you who have this edition of the comic have a true collector's item!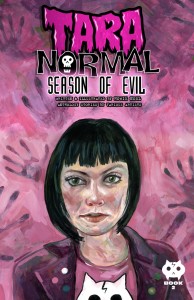 TARA NORMAL: "Season of Evil" (HCNoel Comics)
When Howie Noel decided to launch a TARA NORMAL anthology in 2016 he invited me to write a story for it. In news that should surprise no one, my story "God Hates a Coward" focuses on the secret origin of Tara's sidekick Baby Cthulhu. This story is illustrated by Seth Damoose and colored by Howie Noel himself… and despite the playful nature of the character, it gets a little dark. Again, go figure, eh? Something about the fun-loving Tara character brings out a certain darkness in me… (To be fair, in the original comic sequence I did for TARA NORMAL years ago she dreamed of her own murder…)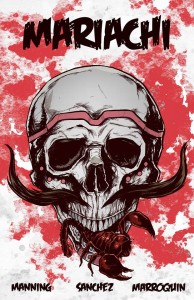 MARIACHI #1–#2 (El Arto)
When Christopher Sanchez and John Marroquin of El Arto first told me about MARIACHI — the story of a Mariachi player who comes back from the dead as a mustachioed skeleton in order to fight bad guys — I immediately told them I'd love to work on the book with them. Thankfully for all of us they agreed, and 2016 saw the release of the first two issues (first as a limited edition line-art only "Bare Bones" editions).
TALES OF MR. RHEE Volume 2: "Karmageddon" #1-4/TPB Collection  (Devil's Due)
This sequel to TALES OF MR. RHEE: "Procreation (of the Wicked)" serves more like a prequel than a formal sequel, as it largely deals with what Mr. Rhee did during the infamous "Three Days of Darkness" and the ensuing Armageddon and Rapture (as seen in NIGHTMARE WORLD) as Mr. Rhee tries to protect five orphaned siblings from the demons, Cthulhu, and even dangers of a decidedly human nature. This series was masterfully illustrated by Seth Damoose with colors by Anthony D. Lee, and a first issue/TPB cover by Eric Powell (THE GOON).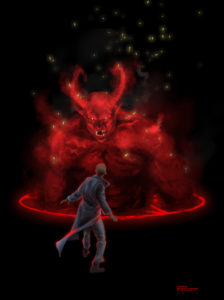 TALES OF MR. RHEE: "Karmageddon Kompendium" (Kickstarter Exclusive)
This Kickstarter Exclusive Bonus Comic that was unlocked as part of the Stretch Goals for the TALES OF MR. RHEE Volume 2 campaign features a stunning cover by artist Marianna Pescosta and two new TALES OF MR. RHEE short stories: The 9-11 homage piece "No One Left" illustrated by Josh Ross and "Long in the Tooth (or: "Why Mr. Rhee Hates Vampires)" illustrated by Matt Merhoff. Both stories are mini-tragedies in their own way, and unless you backed the TALES OF MR. RHEE Volume 2 Kickstarter it's going to be next-to-impossible to get your hands on this bonus comic. There's a lesson there, folks.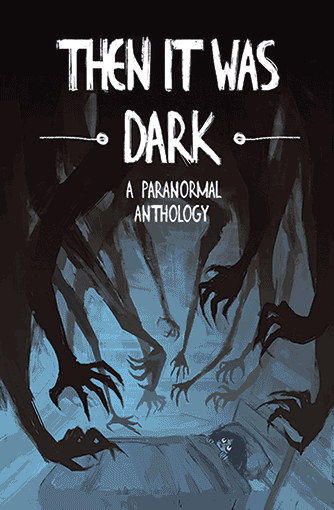 THEN IT WAS DARK (Peppermint Monster Press)
THEN IT WAS DARK is an anthology in which editor Sarah Benkin asked over two dozen writers if they ever had a paranormal experience… and if so if they'd be willing to write about it in comic script form so she could then arrange for a comic artist to illustrate it. The final result is an amazingly chilling book filled with real-life stories of supernatural events. My contribution, an eight-page story illustrated by Jan Black is titled "I Ain't Superstitious" and is a 100% true accounting of a ghostly experience I had in New Orleans. If you're into true stories of the supernatural, you need this book! This story was later reprinted in BURIED BUT NOT DEAD Volume 1: "Lost Tales" from Source Point Press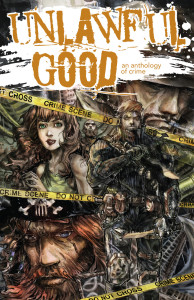 UNLAWFUL GOOD (Dude, WHAT? Comics)
UNLAWFUL GOOD is a crime-based anthology assembled by Heather Antos. My story in this volume, titled "Kingmakers" is worth getting your hands on if for no other reason than it revisits one of my favorite minor characters from NIGHTMARE WORLD and shines the spotlight on him a bit more in a mafia-based morality tale. (A very slightly tweaked version of this story also appears in NIGHTMARE WORLD Volume 4 with the title "Per Aspera Ad Inferi", so if you can't get your hands on this now long out-of-print collection, don't fret, as you can read the story there instead.)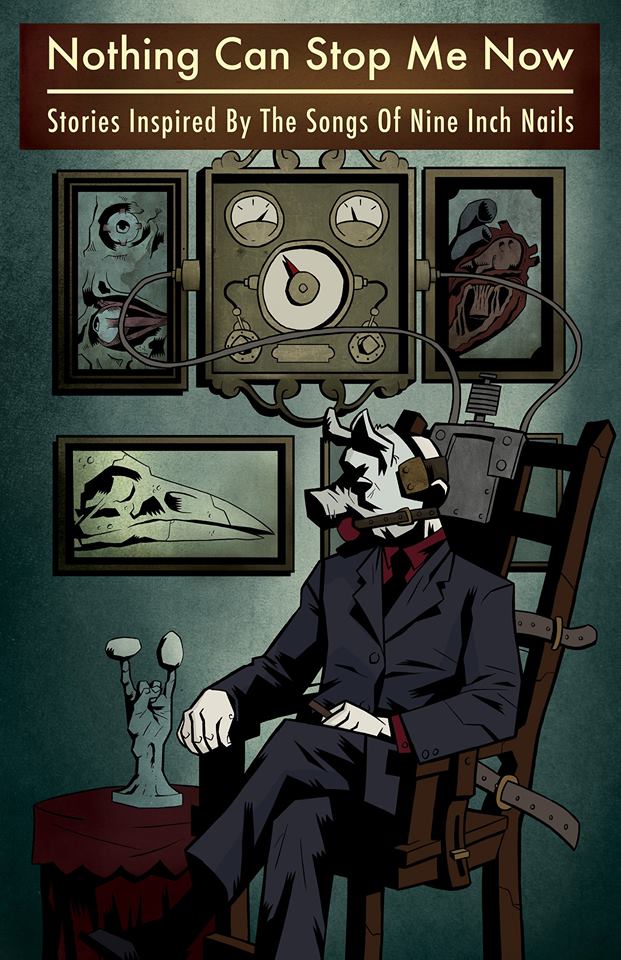 NOTHING CAN STOP ME NOW: Stories Inspired by the Songs of Nine Inch Nails (Spazdog Comics)
Spearheaded by all-around swell fellow Shawn Demumbrum as a Kickstarter-based project, NOTHING CAN STOP ME NOW…  is a fantastic hardcover anthology of stories all inspired by the songs of the legendary industrial pioneer(s) Nine Inch Nails. (Yes, yes, technically the band is really Trent Reznor and a bunch of various back-up musicians for the live shows… but credit where credit is due swings both ways, right?) Well, as fate would have it, several years ago myself and artist Mark Winters did a true crime/suspense story partially-inspired by a Nine Inch Nails song for the online syndication of NIGHTMARE WORLD that hadn't seen print in the original four collections. Since the original title for our story ("Happiness in Slavery") was already taken by the time we approached Shawn about including our story in the book, a simple title tweak to "Just Like You Imagined" was all that was needed to bring this story to print in this must-own prestige format anthology. This story was later reprinted in BURIED BUT NOT DEAD Volume 1: "Lost Tales" from Source Point Press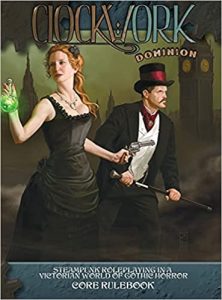 CLOCKWORK: DOMINION CORE RULEBOOK (Reliquary Game Studios)
A RPG described as "a steampunk roleplaying game set in a Victorian world of gothic horror," I was invited to help draft several fiction pieces for the massive Core Rulebook of this game, with my four-page prose story "Sanction" opening the book and introducing this world of Witchfinders, chimeras, and more to potential players. It's rare that I write prose outside of my own comic work, so this was a special treat and a story I quite enjoyed writing and seeing published!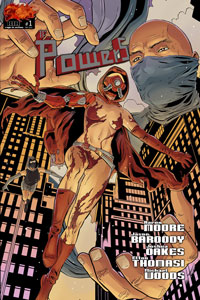 IF… POWERS #1 (RIA Comics)
Up-and-coming writer and publisher asked me to contribute a few stories to his new comic anthology that explores a world where almost everyone has superpowers, resulting in what remains one of the rarer books I have work in. Completists will want to hunt a copy of this book down (and, fair warning, I believe different "variants" may possibly have different stories despite them all being labeled "Issue #1") because of my one-page story "Meanwhile, in the Sewers…" illustrated by Seth Damoose and the two-page story "Children of the Sea" illustrated by John Marroquin. Both stories were colored by Anthony D. Lee, and it was fun to work on some micro-fiction comic stories like this.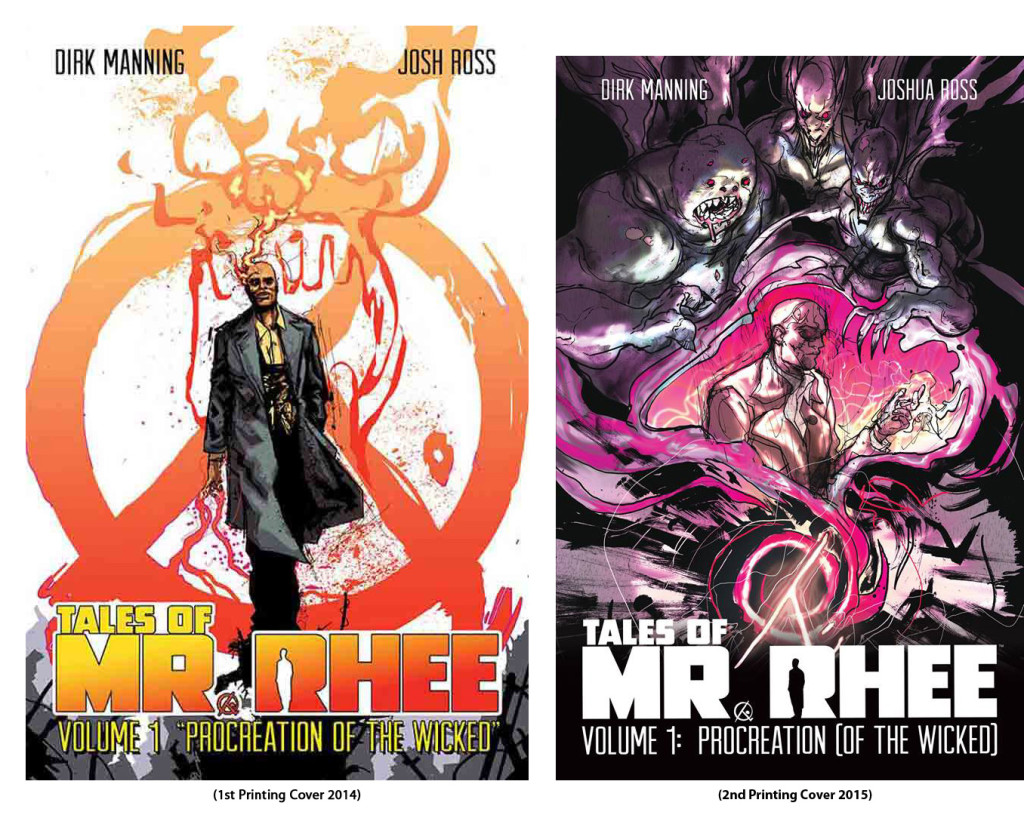 TALES OF MR. RHEE Volume 1: "Procreation (of the Wicked)" (Devil's Due)
Originally launched as an online comic spin-off series of NIGHTMARE WORLD on June 6th, 2006 (get it?), it wasn't until 2014 when those original thirteen online TALES OF MR. RHEE stories went to print via a very successful Kickstarter campaign run through Devil's Due as TALES OF MR. RHEE Volume 1: "Procreation (of the Wicked)". Illustrated by Josh Ross with Austin McKinley and Sean Burres on gray-scaled colors and James Reddington on letters, we were able to add a new prose story and a full-color multi-page character guide to the back of the book, which came with two different covers (one for the Kickstarter Exclusive Deluxe Hardcover and one for the mass-market TPB collection) by artist Riley Rossmo. Note that the first printing of the book was released in 2014 and, upon selling out, went back to print starting in 2015 with the second cover, also by Riley Rossmo. Other than the covers the interiors are pretty much identical.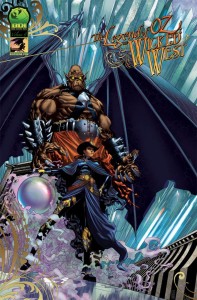 THE LEGEND OF OZ: THE WICKED WEST #12-15 (Big Dog Ink)
After working on the CRITTER Annual for Big Dog Ink I was asked what characters I would be interested in writing about for THE LEGEND OF OZ: THE WICKED WEST. I of course answered "The Flying Monkeys," to which BDI replied, "Everyone wants to do The Flying Monkeys." I then told them my pitch… and had the contract a week later. The result was a four-issue run in which Dorthy's position as the new Witch of the East and the West is explored concurrently as we learn the history of The Flying Monkeys she now has at her disposal. As far as I'm concerned artist Alison Borges did the best work of his career to date on these four issues, and I had a blast telling the story of these iconic characters… and planting seeds for more potential stories later, should I ever be invited to return to the series again at a later date.
MERCY SPARX #6-7 (Devil's Due)
I didn't write so much as consult on these two issues of Josh Blaylock's series about a devil girl who hunts rogue angels, as these two issues feature a crossover with Mr. Rhee and Charity from TALES OF MR. RHEE. Issue #7 also features my professional comic art debut, as I drew the picture of the monster Mr. Rhee shows to Mercy Sparx in a failed attempt to help her realize how much danger she's in. Whether or not this will make the issue a "Collector's Item" or will decrease the value of the book when compared to the rest of the run remains to be seen. These two issues are hard to find on heir own, but are also collected in MERCY SPARX Volume 3: "Family Roots (of All Evil)" as well as the MERCY SPARX OMNIBUS: VOLUME ONE.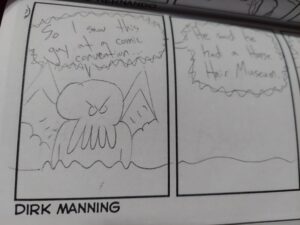 ANIMAL HAIR MUSEUM GUEST BOOK (Self-Published by AHM)
If you're wondering to yourself "Self, what's the rarest comic Dirk Manning has a story in?" then the answer may very well be this one. AHM creator Matt Haas was set-up in Artist Alley at Derby City Comic Con in 2014, during which time he went around to a series of comic creators offering each of us a blank four-panel comic strip and offering us $1 and a pin certifying us as a professional comic creator (since we were now being paid to create a comic) in exchange for following this mandate: "You can do anything you want." I drew the standard Cthulhu I draw in most NIGHTMARE WORLD books I sign starting a short narrative that ended in a bit of a joke. Since this was a small self-published comic that you'll probably never find a copy of, here's the "joke" for your reading "pleasure": "So I saw this guy at a comic convention... // He said he had a Horse Hair Museum // I got all excited about it, as we don't see too many horses in R'lyeh these days (for reasons that I'm sure are obvious), but when I walked over there there wasn't any. // So I ate him." In my defense, I don't remember if I took the dollar (or the pin) or not.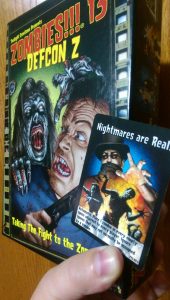 ZOMBIES 13!!! DEFCON Z (Edge Entertainment, Twilight Creations, Inc.)
This is not a comic, bur rather an expansion pack to a popular (and really fun) tabletop board game which I got to write the gameplay scenario for not one, but *two* cards for, with both of them illustrated by the always amazing Dave Aikins. When "Nightmares Are Real!" is played you can INSTANTLY make the lives of your fellow players a living Hell as they find themselves instantly surrounded by zombies on every side -- zombies that are summoned by none other than Dirk Manning himself! To counterbalance this Hellacious card, I was also given the opportunity to write a second card called "Bite Me!" which gives players three bullets for each point of damage they've taken. That one doesn't rock my terrifying visage, but its art is the front cover of the whole box (with the art from my other card gracing the sides)... so that's still pretty cool, eh?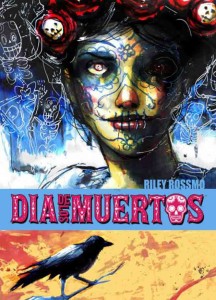 DIA DE LOS MUERTOS #1 (Image Comics/Shadowline)
Artist Riley Rossmo decided to go what I playfully dubbed the "Reverse NIGHTMARE WORLD" approach for this excellent mini-series in which he contacted nine different writers and asked each one to write a story for him that focused on the Mexican "Day of the Dead" for him to illustrate. My story, "Te Vas Angel Mio" is the third and final story in the first issue and received a lot of praise from reviewers and critics as one of the strongest stories in not only the issue but eventually the whole mini-series. You can hunt down this first issue if you wish, purchase the complete DIA DE LOS MUERTOS collected series in one graphic novel, or read this story in BURIED BUT NOT DEAD from Source Point Press.
CRITTER ANNUAL #1 (Big Dog Ink)
I answered an "open call" style-submission to write a short story revolving around the supporting character "Charity" from Big Dog Ink's superhero title CRITTER, with the end result being a rather chilling eight-page story that starts to shed some light on why the incredibly powerful superheroine in question does so little to help those most in need. Also of note is that this story marks the sequential art debut of frequent Big Dog Ink cover artist Jenevieve Broomall, which makes this quite the collector's item!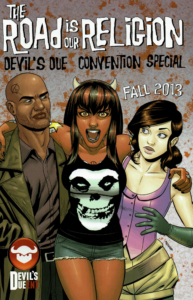 THE ROAD IS OUR RELIGION DEVIL'S DUE CONVENTION SPECIAL 2013 (Devil's Due)
The first appearance of Mr. Rhee in print under the Devil's Due appears in this 2013 promotional book from publisher Devil's Due. Featuring  preview of the first five pages of the first chapter/story from TALES OF MR. RHEE Volume 1 (with a comical bit censorship over the graphic reveal at the end of that page -- you'll know exactly the one if you've read the book), this comic also features an original and never-before reprinted text piece from me about TALES OF MR. RHEE as well as the cover featuring Mr. Rhee, Mercy Sparx from MERCY SPARX, and Vesper Grey from PLUME all illustrated by Matt Merhoff.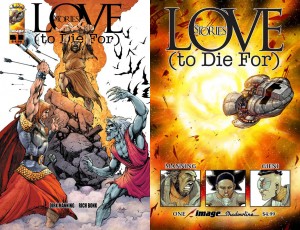 LOVE STORIES (TO DIE FOR) (Image Comics/Shadowline)
After the success of the LOVE STORIES ABOUT DEATH 22-page stories we published online through the www.ShadowlineOnline.com website, Shadowline went ahead published a double-sized flip-book of two new stories in this format for print.  The vampires vs. Vikings story "Bloodlust: Deceiver of the Gods" (illustrated by Rich Bonk and colored by Sean Burres) and the science-fiction romantic tragedy "Symptom of the Universe" (fully illustrated by Owen Gieni) were both stories very well received by readers, and the comic sold through its whole print run, making it a bonafide sell-out!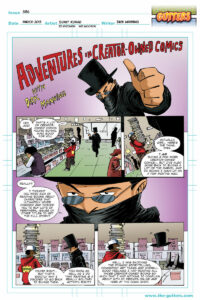 THE GUTTERS (Online Comic)
In 2013 I was asked to write a guest strip for the popular online comic parody series THE GUTTERS. I wrote four one-page gag strips (all variations on this same "Adventures in Creator-Owned  Comics" theme), and while there was talk of eventually running them all, as far as I'm aware this was the only one to ever be illustrated for the series. The art here is by Sumit Kumar, who went on to make quite a name from himself in comics.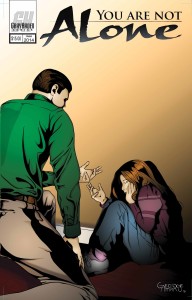 YOU ARE NOT ALONE (Grayhaven Comics)
I was honored to rejoin many of my friends from Grayhaven Comics (as well as other facets of the comic industry) and contribute a short story titled "Think Twice" (expertly illustrated by Alejandro Aragon) to this Kickstarter-funded anthology meant to raise awareness about — and give support to — children and adults suffering from abuse, bullying, harassment, and other such difficult situations. This story was later reprinted in BURIED BUT NOT DEAD Volume 1: "Lost Tales" from Source Point Press.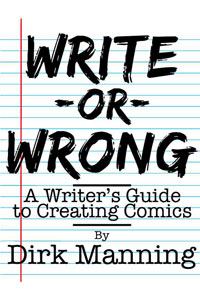 WRITE OR WRONG: A WRITER'S GUIDE TO CREATING COMICS (Transfuzion Publishing/Caliber Comics)
216 pages of practical advice and anecdotes about how writers can bridge the gap from being aspiring comic creators to real-life professional ones. This book collects numerous completely remastered/re-edited columns from the early days of the WRITE OR WRONG column from Newsarama.com and combines them with several new columns/chapters to create a 26 chapter "field guide" to creating comics.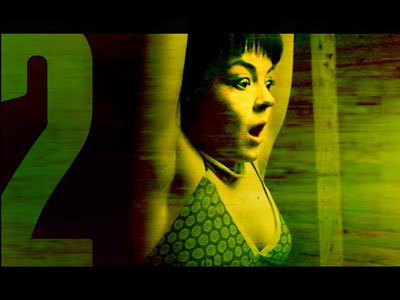 BlackBox TV presents "The Hunger" (Blackbox TV/YouTube)
A short 8-minute film written by Dirk Manning for the popular YouTube horror movie series. Two other Blackbox TV films — "Zombie" and "Night Shift" — are also directly based on stories from NIGHTMARE WORLD.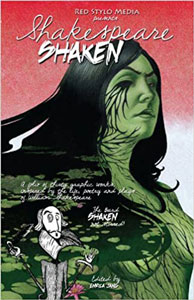 SHAKESPEARE SHAKEN (Red Stylo Media)
Contributed the forward to the collection as well as the short story "The Iron Tongue of Midnight," which tells of Queen Mab's secret relationship with Mercutio and how it impacted the events of Romeo and Juliet. Oh… and all the dialogue was written in Iambic Pentameter, too. That's pretty cool, huh?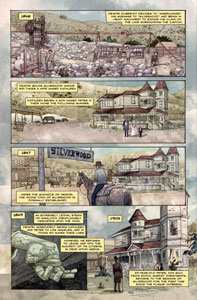 BlackBox TV: "The Secret History of Silverwood" (BlackBox TV)
BlackBox TV founder Tony V. hired myself and artist Anthony Peruzzo to craft a 12-page online comic that revealed the back-story of the town Silverwood from his YouTube horror film series of the same name. The full comic can be read online on Facebook HERE: BlackBox TV: "The Secret History of Silverwood" (Online Comic on Facebook)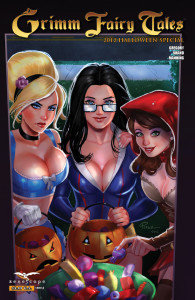 GRIMM FAIRY TALES HALLOWEEN SPECIAL 2012 (Zenescope Comics)
I wrote the seven-page story "Jack the Lantern" for this issue. Want to know the origin of "Jack O' Lanterns" and where they really come from? Hunt down a copy of comic… and prepare to squirm!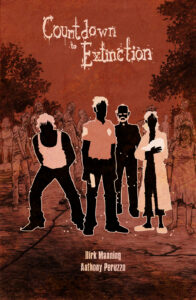 LOVE STORIES ABOUT DEATH: The Online Series (Image Comics/Shadowline)
After initially debuting on a now defunct online comic hub, this series of three 22-page genre-hopping one-shots (each written by me and illustrated by a different artist) then ran at www.ShadowlineOnline.com in 2012 and was (rightfully) seen by readers as a spiritual sequel to NIGHTMARE WORLD. Image Comics would later release a 44-page one-shot/flip-book of two more original stories in this format under the moniker LOVE STORIES (TO DIE FOR) before all five stories would be collected (with a bonus prose story) in a TPB collection by Devil's Due Entertainment in 2017.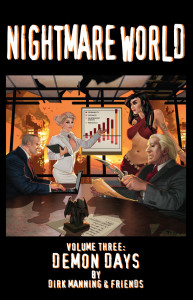 NIGHTMARE WORLD Volume 3: "Demon Days" (Image Comics/Shadowline, later reprinted by Devil's Due)
Collects 13 more stories from the online comic series NIGHTMARE WORLD (remastering several of them for print in the process) as well as an exclusive two-page prose story titled "That Which Is and Should Never Be" illustrated by series letterer — and great painter/illustrator — Jim Reddington.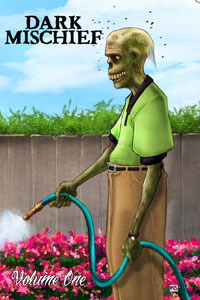 DARK MISCHIEF Volume 1 (DreamWalker Press)
Includes the three short one-page stories that originally appeared in the Ape Comics release NIGHTMARE WORLD #1 as well as the introductory pin-up, this time with different dialogue.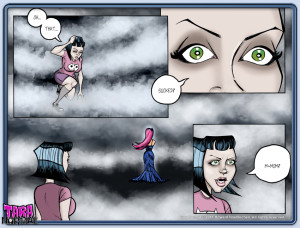 TARA NORMAL: The Webcomic (Case #3)
Writer/artist Howie Noel and I met when we were both guests on the same podcast, and we got along well enough that we stayed in touch and started reading each other's work. He loved my comic NIGHTMARE WORLD and I loved his comic TARA NORMAL, and this parlayed into me doing a short script for a dream sequence for the online incarnation of the TARA NORMAL comic series in "Case 3: Out of Body, Out of Mind." Despite the light-hearted nature of the comic, Howie let me write a very dark and foreboding dream sequence in which Tara meets her mother(?) for the first time. The whole sequence is 4 pages (the first page of it shown below).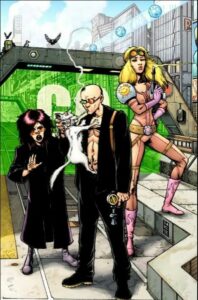 TRANSMETROPOLITAN: "All Around the World" (Pirates Press/Charity Art Book)
Launched on Kickstarter to generate funds both the Comic Book Legal Defense Fund and The Hero Initative, only 1,500 copies of this oversized hardcover were released into public distribution, and 500 of those copies were slipcased and included a multi-signed bookplate. Billed mainly as an art book (and featuring contributions from some of the most amazing and influential artists in comics), there are few stories that take place in the TRANSMETROPOLITAN universe in here as well, including a two page story written by me and illustrated by my longtime collaborator Len O'Grady featuring the newscaster Robert McX. DC Comics signed-off on this collection, and it was even numbered "Volume 11" of the collected editions (to match the original numbering of the TPB collections). More information about this book can be found in this interview, by me, with the initiators of the project HERE.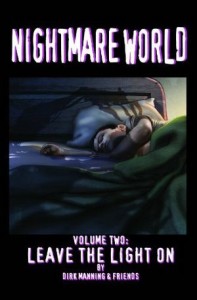 NIGHTMARE WORLD Volume 2: "Leave the Light On" (Image Comics/Shadowline, later reprinted by Devil's Due)
Collects 13 more stories from the online comic series NIGHTMARE WORLD (remastering several of them for print in the process) as well as an exclusive two-page prose story titled "Bad Romance" with a pin-up illustration by artist Carolina Eade.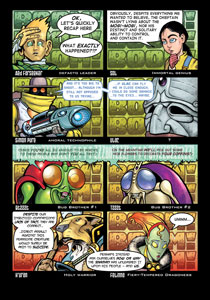 FARSEEKER: The Online Series (ACTIVATE Comix)
Artist Len O'Grady and I published the first full issue (and a few pages from the second) of our all-ages-friendly fantasy comic at the prestigious ACT-I-VATE Comix webcomic hub before work on the series had to be postponed. We are both clamoring to return to it, though! Honest!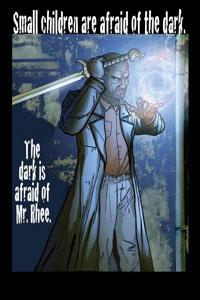 TALES OF MR. RHEE: The Online Series  (Image Comics/Shadowline)
The thirteen eight-page stories that comprise TALES OF MR. RHEE Volume 1: "Procreation (of the Wicked)" began running at the rate of two pages a week (one page every Tuesday and Thursday) at the Image Comics/Shadowline website/online comics hub www.ShadowlineOnline.com. This series would later be collected as TALES OF MR. RHEE: "Procreation (of the Wicked)" by Devil's Due after fans supported a Kickstarter campaign to bring it to print, pledging over $15,000 in pre-sales, proving they RHEE-ly wanted to see this series exist in print!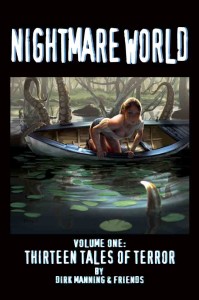 NIGHTMARE WORLD Volume 1: "Thirteen Tales of Terror" (Image Comics/Shadowline, later reprinted by Devil's Due)
Collects 13 stories from the online comic series NIGHTMARE WORLD (remastering several of them for print in the process) as well as an exclusive two-page prose story titled "The Long, Hard Road Out of Hell" with spot illustrations by Josh Ross.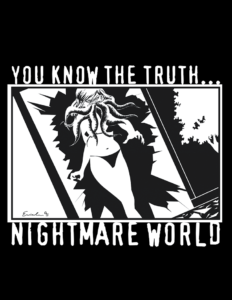 NIGHTMARE WORLD: The Online Series (Image Comics/Shadowline)
After self-publishing — and completing — the whole series online over the course of several years, NIGHTMARE WORLD was picked-up by Image Comics/Shadowline as part of their online comic hub. By the second month, it became the site's most-read online comic and retained that level of readership (among some great other comics) throughout the duration of its two-year run being hosted there in syndication. We ran 52 stories at the site, 39 of which went on to be collected in print over three graphic novel collections published by Image Comics/Shadowline.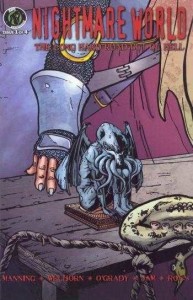 NIGHTMARE WORLD: "The Long Hard Road Out of Hell" #1 (Ape Comics)
Features four stories from the online NIGHTMARE WORLD series, including an early version of "Frozen" that has never been reprinted and was later redrawn by a different artist for the Image Comics/Shadowline collections. Each story also contains an illustrated Dirk Manning pin-up/introduction piece that has never appeared in print outside this collection. Finally, this issue also contains a fifth Dirk Manning pin-up that serves as an introduction to three short one-page NIGHTMARE WORLD stories that served as "Halloween Specials" during the original online run of the series. Although this comic was marketed as "1 of 4," the remaining three issues were never released. The covers were all meant to form one giant image (with the back covers also all forming a giant H.P. Lovecraft-style Necronomicon), with the full image later appearing in print as part of the introduction to NIGHTMARE WORLD Volume 2: "Leave the Light On" from Image Comics/Shadowline.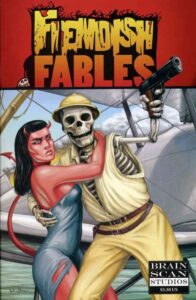 FIENDISH FABLES #1 (Brain Scan Studios)
This one-shot black-and-white horror anthology features, among other stories by other creative teams, the NIGHTMARE WORLD one-page story "I Miss You" written by me and illustrated by my frequent NIGHTMARE WORLD collaborator Jeff Welborn. Over the course of NIGHTMARE WORLD I wrote four one-page "Halloween Special" stories, and I've often cited this story not only as the scariest of those four, but also amongst the scariest comic stories I've ever written, ever. "I Miss You" was also later reprinted in the DARK MISCHIEF anthology as well as THE NIGHTMARENOMICON.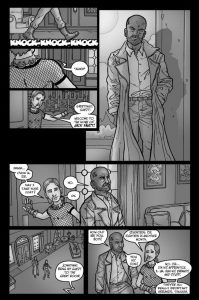 TALES OF MR. RHEE: The Online Series (Self-Published)
June 6, 2006 (see what we did there?) marked the online debut of TALES OF MR. RHEE at www.NightmareWorld.com after several weeks of teasing and hype.
Illustrated by longtime NIGHTMARE WORLD contributing artist Josh Ross, TALES OF MR. RHEE served as a horror noir spin-off series of NIGHTMARE WORLD publishing at the rate of one page a week every Wednesday as the former series neared the end of its epic fifty-two story run.
Frequent NW artist (and coloring collaborator of Josh) Austin McKinley joined us for the first six eight-page chapters of "Volume 1," giving the series its trademark grayscaled look that mirror classic film noir. My longtime lettering collaborator Jim Reddington lettered the series and helped bring the iconic logo to life. After the sixth chapter the series went on a brief online hiatus, returning with colorist Sean Burres joining us for the last seven chapters, completing the online run of the series before it then went to print with a collected edition titled TALES OF MR. RHEE Volume 1: "Procreation (of the Wicked)" which launched on Kickstarter with Devil's Due Comics, solidifying the series' move to print moving forward.
Fun Fact: The impetus for TALES OF MR. RHEE came about when an executive from a proposed all-horror cable channel approached me about creating a new online comic series for their website. The company never launched, and as a result no formal pitch was made, allowing me to fully develop the series in its current -- and continuing -- form as a long-form psychological character study about the true "lone wolf" style monster hunter impact would have on someone... as well as allowing me to continue to explore the world I laid the foundation for in NIGHTMARE WORLD, of course!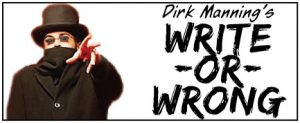 WRITE OR WRONG: The Online Column (Newsarama, Bleeding Cool)
August 2016 saw the debut of WRITE OR WRONG at www.Newsarama.com. While the column admittedly allowed me to discuss and promote my comic series NIGHTMARE WORLD on the most-read comic book news website of the time on a weekly basis (a liberty I traded in exchange for being paid to write the column), my main motivation for creating and writing the inspirational/how-to column came from a promise I made to myself before my first comic was ever published: "If I ever start creating comics, I'll do everything I can to help other people create comics, too."
As the column continued and the evolution of the topics discussed grew more complex the columns became longer and longer, eventually causing the release schedule to move towards a closer-to-monthly release schedule. The readership and comment section/forum  (remember those?) remained lively, active, and engaged, though, and it was this column that helped the editorial staff from Image Comics/Shadowline take notice of my work, which eventually led to my publishing partnerships with them.
As leadership and circumstances changed and evolved over the years, I eventually took the column to Bleeding Cool, where it ran less sporadically, as at that point my writing and touring schedule had increased dramatically since the debut of the column, including the publication of a book largely derived from the previously online columns.
The last publicly published installment of the online column was #85 in February 2015, although an 86th column was published on my short-lived venture with Patreon. I always secretly hoped that the column would go to -- and end -- at #100, but other writing demands -- combined with the decision to take the column to a book format -- ultimately thwarted this initial vision, although the trade-off of books for online columns hopefully proves a better one for all involved.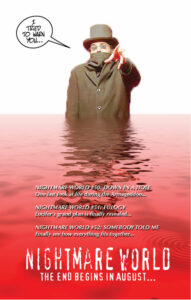 NIGHTMARE WORLD: The Online Series (Self-Published)
March 2003 saw the debut of NIGHTMARE WORLD as an online comic series with "Momma's Boy," the first comic script I ever wrote. Publishing at the rate of two pages a week every Thursday (with five Thursday months offering readers a "Sneak Peek Week" featuring art from upcoming stories), I remain exceptionally proud of how NIGHTMARE WORLD was among the first fully realized comic book series published online. While some of the stories were recolored or even on a few rare occasions re-illustrated over the years, for the bulk of the 52 stories went on to see print as they originally appeared published online starting in 2003. At one point the series went "dark" for about a year or so when the hosting service suddenly went bankrupt (remember, this was in the old days of the Internet), but we came back online and then finished the series at the domain www.NightmareWorld.com while also launching both TALES OF MR. RHEE and FARSEEKER there as well.
Fun Fact: Because I was never sure if I'd be able to realize my "master plan" for the series (revealing that all the stories in NIGHTMARE WORLD were part of one big "uber-story" and often connected in unexpected ways) until around the 25th story in the series, at which case I e-mailed several of the artists I was working with often (Josh Ross, Jeff Welborn, Austin McKinley, Len O'Grady, and Jason Meek among others) and said "Hey, so, there's a big story I want to tell here, but I need to know if you're all willing to help me bring it together in about twenty-five more stories." Obviously they, among others, agreed, and the rest is history...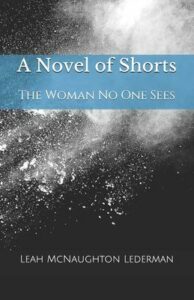 A NOVEL OF SHORTS: THE WOMAN NO ONE SEES (Mothership Press)

2020: "Ashes to Ashes: A Study of a Mysterious Stranger Always -- and Never -- Known"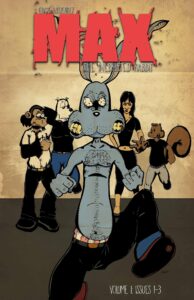 MAX THE INEBRIATED RABBIT Volume 1 (Revolt Press)

2019: "One (Rabbit's) Foot in the Grave"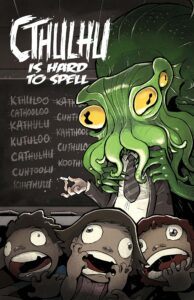 CTHULHU IS HARD TO SPELL Volume 1 (Charon Comics LLC/Wannabe Press)

2019: "Foreword: You Are Not Alone"
[Note: Because of the subject matter, I wrote this foreword to be exactly 666 words. It was a fun -- and spooky -- challenge!]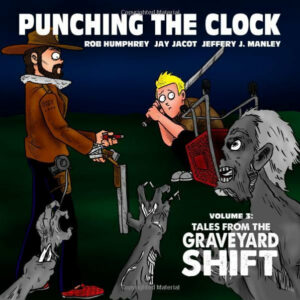 PUNCHING THE CLOCK Volume 3: "Tales from the Graveyard Shift"

2018: "Punching the Foreword: Some Returns Are Good Returns... And Some, Unfortunately, Are Zombies"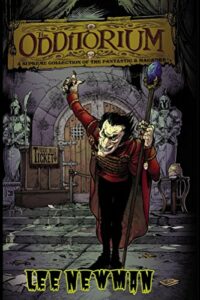 THE ODDITORIUM: Collected Tales of Terror Volume 1 (Poor Man Press)

2018: "What Scares You? An Introduction -- and Reflection on Terror -- by Dirk Manning"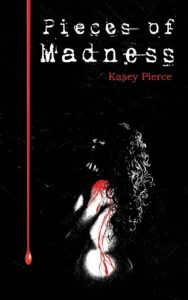 PIECES OF MADNESS (Rocket Ink Studios, later reprinted by Source Point Press)

2017: "Madness"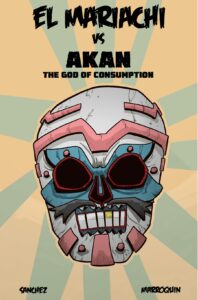 EL MARIACHI VS AKAN THE GOD OF CONSUMPTION (El Arto)

2015: "It is good to have friends, even in Hell." -- Spanish Proverb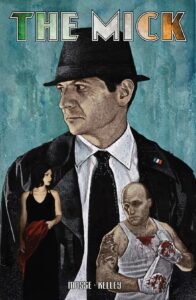 THE MICK (Red Handed Studios)

2014: "Foreword"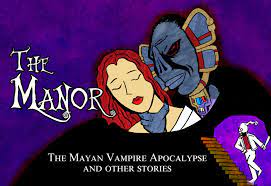 THE MANOR Volume 3: "The Mayan Vampire Apocalypse and Other Stories" (Self-Published by Andy Korty)

2014: "Why Can't It Be Funny, Too?"
(Note: In a sign of appreciation from writer/artist Andy Korty, there is a character who appears in THE MANOR who bears a striking resemblance to the writer who just-so-happened to write the introduction to this volume of the book.)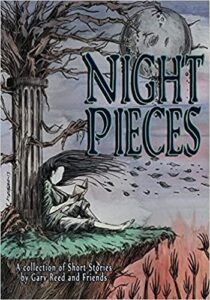 NIGHT PIECES (Caliber Comics)

2013: "These Stories Matter"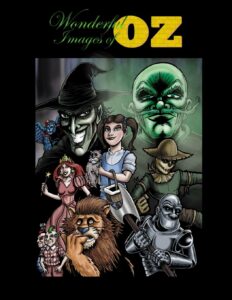 WONDERFUL IMAGES OF OZ (Self-Published Art Book by Kevin Meinert)

2013: "Oz is in the Eye of the Beholder"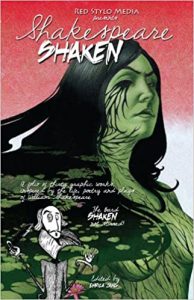 SHAKESPEARE SHAKEN (Red Stylo Media)

2012: "An Ode to Iambic Pentameter (Or, At Least a 'Foreword' If You Prefer)"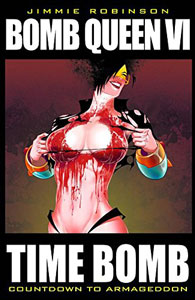 BOMB QUEEN Volume 6: "Time Bomb" (Image Comics/Shadowline)
2011: "How I Learned to Stop Worrying and Love the Bomb Queen"
(Note: In a sign of appreciation and friendship, creator Jimmie Robinson named one of the heroes in this volume "Dirk Devil")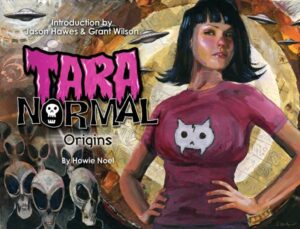 TARA NORMAL: ORIGINS (Self-Published by Howie Noel)
2011: "A Sucker for a Pretty Face"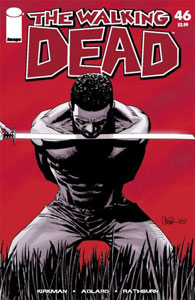 THE WALKING DEAD #46 (Image Comics)
2011: My first (and only) letter to a comic book is published, in which I ask Robert Kirkman if zombies poop. His answer is quite entertaining, and he even seemed to gross himself out a bit as he answered it. Over the years he has continued to refer back to this letter (and answer) whenever the question is asked... so does that make this a "Key Issue" to collectors? You decide!