TALES OF MR. RHEE Volume 3 Kickstarter = Monstrous Success!
On April 27th the Kickstarter campaign for TALES OF MR. RHEE Volume 3: "Those Who Fight Monsters…" launched in conjunction with Devil's Due Entertainment with a funding goal of $6,666 in order to offer direct supporters a Kickstarter-Exclusive Hardcover Edition of the book before the release of the mass-market trade paperback edition hits shelves this fall. Along with the Kickstarter-Exclusive Hardcover Edition of the book, we also offered several other Kickstarter-Exclusive items through the campaign, including glow-in-the-dark T-shirts, Mr. Rhee coffee mugs, and bags of "Dirk's Perk" coffee.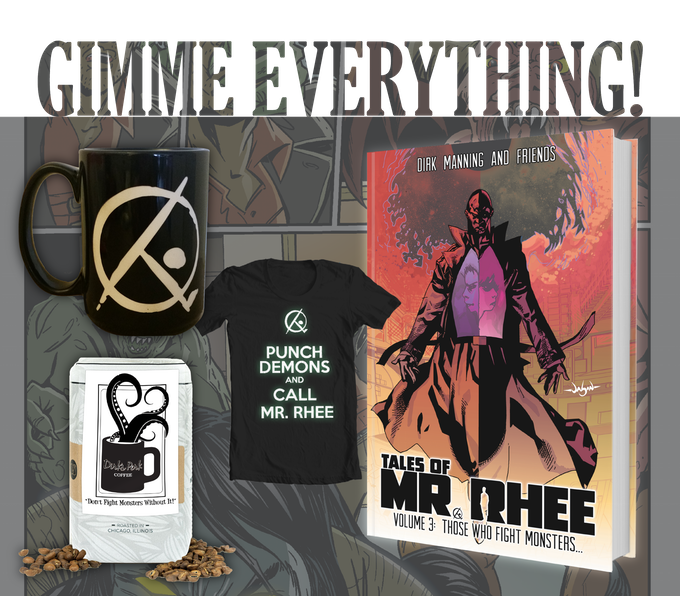 I'm shocked and humbled to say we hit our funding goal in 3 hours, went on to pass $10,000 in 13 hours, and finished the campaign with $23,110 dollars at the end of the 30-day funding window.
If you were one of the hundreds of backers who pledged to the campaign — and helped unlock FIFTEEN(!!!) stretch goals in the process — thank you. (And for those of you keeping track at home, this means in three Kickstarter campaigns, TALES OF MR. RHEE has raised almost $60,000 total — and that obviously doesn't include sales in the direct market (comic stores, Amazon, and Comixology) as well as the sizable convention circuit presence of both myself and Devil's Due.
Again… THANK YOU for supporting good horror comics, folks. Thanks to your continued enthusiastic support, there are a lot more TALES OF MR. RHEE scheduled for the future.
***
Multi-Book Deal with Devil's Due Entertainment is now official!
I've obviously been enjoying a lot of success working with Devil's Due for my creator-owned series TALES OF MR. RHEE, and I'm tickled to announce that I've signed a multi-book publishing deal that will include more TALES OF MR. RHEE (of course) as well as a complete collection of my long out of print (and never fully collected) LOVE STORIES (TO DIE FOR) series as well as new printings of NIGHTMARE WORLD Volumes 1-3 and the culmination of the series with NIGHTMARE WORLD Volume 4 and a NIGHTMARE WORLD OMNIBUS… for starters.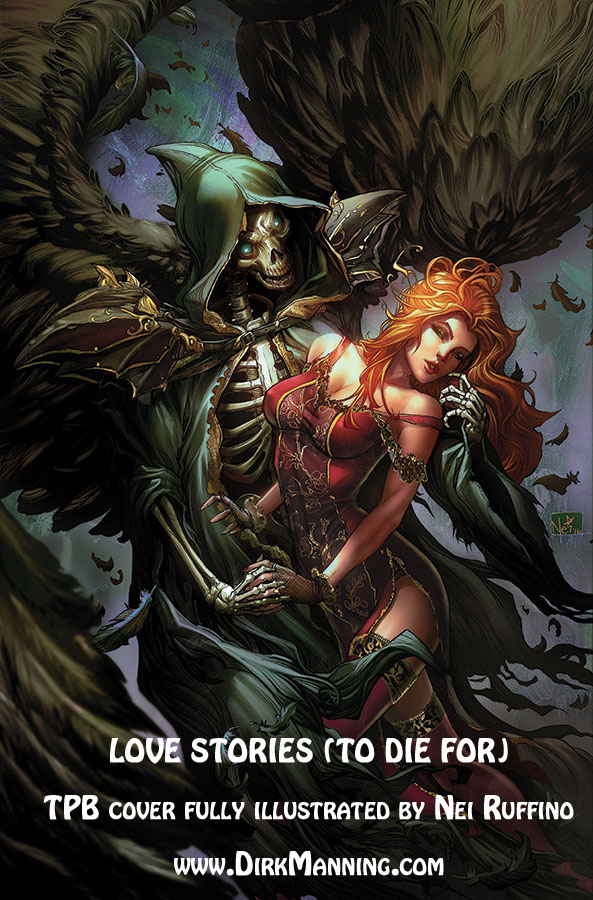 Devil's Due is truly becoming a phoenix rising from the ashes in regards to their strong line-up of creator-owned books, and I'm excited to be working with them moving forward with several of my own creator-owned series!
***
A well-earned six weeks off the road… to write!
As of this posting, I'll be wrapping-up my 15-week tour which took me across the Midwest and the East Coast from February to June and taking a well-earned (if I do say so myself!) break for about six weeks to hunker down and get some writing and production work done on upcoming releases including the aforementioned NIGHTMARE WORLD Volume 4 TALES OF MR. RHEE Volume 4, MARIACHI, and hopefully even WRITE OR WRONG Volume 2. Yes… really!
***
Again, thank you all for your continued support! I'll update again here soon — most likely as the summer/fall touring season begins at the end of July. If you want to know where my summer and fall touring schedule will be taking me, check out all my announced appearances under the "Signings and Appearances" tab, and take a moment to sign-up for the monthly newsletter!
Your friend in comics,
Dirk Manning