Hey all!
As those of you who follow me on social media (Facebook, Twitter, Instagram, etc) and/or get and read my monthly e-mail newsletter (you can subscribe using the form on your right!) are aware, I've been taking most of July off the road after finishing that grueling 15-week signing tour that lasted from February until June.
You know… the one during which also launched (and successfully completed) a Kickstarter for TALES OF MR. RHEE Volume 3: Those Who Fight Monsters from Devil's Due Publishing.
(Thanks again to all of you reading this who helped make that campaign a MONSTER success, too! I still can't believe we raised over $23,000 in pre-sales and pledges on a $6,666 funding goal! You rock!)
I just updated the "Signing and Appearances" tab here on the website to reflect my summer and fall touring schedule… and it features SEVERAL new shows and appearances, including Wizard World: Chicago, Baltimore Comic Con, Bangorfest 2, and a return to Cincinnati Comic Expo along with my return to New York Comic Con, Cinema Wasteland, Grand Rapids Comic Con, and more! Check the link and let's make plans to kick it, yeah?
Finally, I would be extremely negligent if I didn't mention that the TALES OF MR. RHEE Volume 3: "Those Who Fight Monsters" trade paperback collection is now in PREVIEWS, which means it's available for pre-order in comic shops all across the country.
Here's the cool ad for it, if you haven't seen it yet: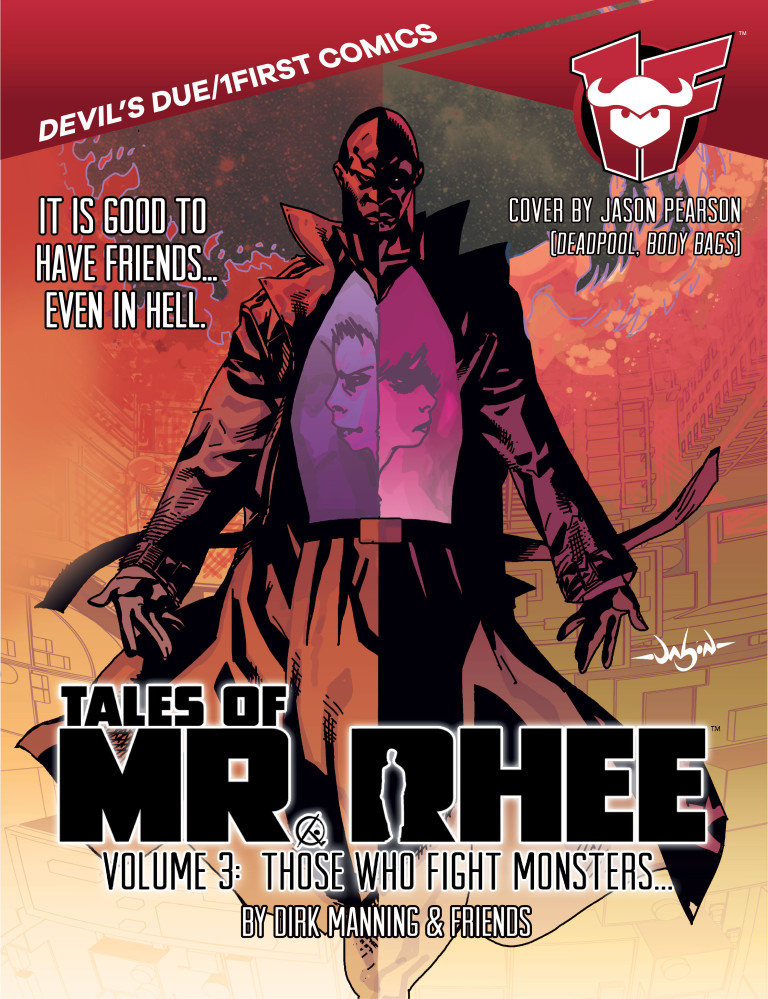 People like me who do creator-owned comics (and don't have the built-in audience that Marvel and DC superheroes do, for example) live or die based on our pre-orders, so if you wouldn't mind letting your local comic shop know that you'd like them to pre-order you a copy, me and the whole team would certainly appreciate it! You can even give them the handy-dandy pre-order code JUL16-1529 if you'd like!
OK… everyone… all of that being said, it's back to the grind for me. As much as I'd like to say these previous few weeks off the road have been filled with fun and sun, in truth, it's been spent getting the files for the RHEEv3 trade paperback ready to send to the printer as well as preparing for the release of a full-blown five-issue LOVE STORIES (TO DIE FOR) trade paperback collection from Devil's Due… and then the NIGHTMARE WORLD Volume 4/NIGHTMARE WORLD Omnibus Kickstarter I'll be launching in October.
Yes… you read that last line correctly, people. NIGHTMARE WORLD Volume 4 — and a full-blown NIGHTMARE WORLD Omnibus with all the fixings — will be coming to Kickstarter in October.
Brace yourselves… it's gonna be huge!
Talk to you soon, my friends! Stay in touch via the mailing list and your social media platforms of preference, ya' hear?
Your friend in comics,
Dirk Manning